Expansions are meant to be small affairs. Often more tightly designed than their predecessor but pitched as the delicious dessert after a satisfying main meal, more of the same but not enough new to be a fully featured sequel.
New Vegas is accurate to half of that. It's definitely more tightly designed than Fallout 3, with a healthy list of tweaks to impress any critic of Bethesda's behemoth, but New Vegas is definitely no dessert; it's a complete meal in its own right, and in many ways far improved over what came before.
Viva Las Vegas
It all begins with a swanky Vegas type putting a bullet between your eyes in order to take your cargo, a seemingly harmless Platinum chip. "The game was rigged from the star" quips the man, voiced expertly by Matthew 'Chandler' Perry, as you tumble backward into a grave, setting up an enticing mystery for any player.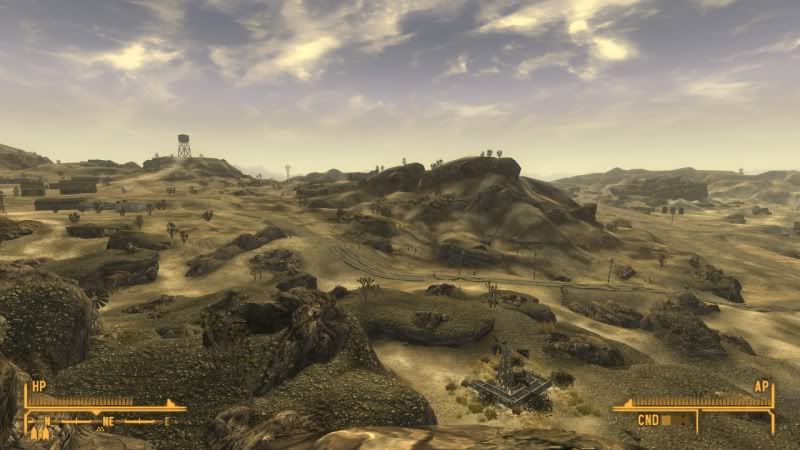 Of course, as with any true gambler, you've got an ace up your sleeve in the form of a friendly local doctor. The resident physician resurrects you, tinkers with your face and abilities to match personal preference (free plastic/brain surgery! Bonus!), then wheels you out the door in search of revenge against the suave gentleman who placed a ballistic through your face and instigated this series of Frankenstein like events in the first place.
From here the game is seemingly split into two halves. The first is Fallout as you'd expect from the Elder Scroll's mould;  moving from settlement to settlement across the Mojave Desert you'll be asking for clues as to your assailants destination whilst meeting the various factions living and fighting around the post apocalyptic wasteland.
Act two starts when you hit the Vegas Strip, and this is where the game truly starts to outshine its older brother.
The Strip is a hive of scum and villainy. Opposing factions fight for control in every building, families skulk around with dark agendas, there's drug smuggling, whore houses, angry cattle ranchers, and even *shudder*ghoul hookers. If it is illegal, immoral, or slightly disturbing then chances are it's happening on the Strip. Even with all these interesting features in mind, it's how the plot unfolds that's most impressive.
An intimidating narrative cobweb is spread over the second half of the game which asks you, the player, to help one of the area's many factions take control of Vegas and deal with the outlaying factions surrounding the desert in the process.
It's pure plot driven magic thanks to every faction's questionable morals. No group is clearly 'good' and none obviously 'bad' meaning the game sidesteps the typical A or B choices and instead leaves players wracking their brain over who to support, who is the least malicious, who has the best fashion sense, and who will take Vegas into a bright neon lit future, if indeed you want that. Due to its complexity most players will likely swap allegiances numerous times as they have doubts in who they should roll with on a turbulent path to the game's explosive finale.
Winning Hand
This idea of intense diversity also extends to the core gameplay itself, more so than in most games that boast freeform gameplay. While many modern RPGs feel like other genres with gradual stat increases dumped on top, New Vegas truly lets players adhere to their specialties as you should expect from a Role Playing Game.
Take, for instance, the idea of 'dealing' with one of the deserts many groups. You could take this literally and wipe them out in fierce combat, strolling in and blasting away like Rambo possessed, or alternatively sneak into the camp at night and silently eliminate everyone whilst they sleep and feast on the corpses.
Or perhaps you'll avoid fisticuffs altogether and talk matters through with their leader, urging him to leave the Mojave or barter with them to join if you feel their abilities would help your cause. And if you do discuss things then there are further options as to how you encourage the faction to bend to your will. There is a staggering range of ways to deal with situations.
While these ideas were present in Bethesda's own RPGs, they were often wishy washy in their implementation. Here, the options are almost countless for even the most basic of mission and with some objectives intertwining with each other players are forced to take sides and drop missions in order to fulfil others, making the experience a completionist's nightmare, but mana of heaven for a true role player.
Critical to this is the way New Vegas replaces the individual karma meter with several separate ones that track reputation for all the game's factions. This simple change lends the Mojave a much richer social tapestry for players to read and interpret and as already said no solution ever seems ideal, thus creating a plethora of possible  scenarios that can play out, thus leading players to create a truly personal trek the game complete with twists, turns, and all the necessary ingredients for a genuinely memorable interactive experience.
It's this ability to play as you wish that lends New Vegas a truly untouchable air of unique play that encourages five playthroughs at least. There are less repetitive bandit like annoyances than Fallout 3 as well. If you're silver of tongue then you'll likely be friendly with the majority of the waste's factions, and there is plenty of hired muscle that could mean you needn't pull a trigger yourself at all. Except to kill those annoying radiation 'improved' insects. When you specialize in an ability in New Vegas, you'll often be able to put it to use in every mission.
Fear and Loathing
That's not to say this iteration of Fallout is an unmitigated success. While the list of improvements is quite long and important; iron sight aiming, brighter visuals, more varied locations, overall improved vocal work and genuinly funny writing, more fitting music, the added 'hardcore mode' for a more realistic wasteland experience (not recommended for loot grabbing kleptomaniacs). Even with so much good there are some clear drawbacks that nag at you all the time whilst playing.
The game's more down to earth approach to post apocalyptic futuristic wasteland wandering means there are less flights of fantasy akin to Fallout 3′s hugely memorable Tranquility Lane, or any encounters to match the scale of the wandering gigantic mutants. Furthermore, with so much love and attention evidently put into realising Vegas itself the outlying colonies aren't anywhere near as well crafted as Megaton or the imposing Tenpenny Tower.
Then there are the hangovers. The aging Oblivion engine, the occasional soul draining-ly long treks across the wasteland, AI that lets you lock pick a door five meters away from them, and those bloody Deathclaw difficulty spikes…
Finally there are the real head shakers, the bugs, glitches, and pimples that serve to irritate with annoying regularity. Characters falling through the ground, melding into ceilings, into tables, or simply appearing where they shouldn't are the most frequent occurrences but the game can be prone to regular crashes and more beside, which all serve to scar an otherwise brilliant experience.
It's a shame that these issues do appear, distressingly frequent at times, because as already said New Vegas improves on its source in nearly every conceivable way. It's still a massive and hugely entertaining experience, and it's a pleasantly daunting ocean of narrative and gameplay depth in a market where RPG's are becoming more regularly streamlined in order to avoid confusing young, action obsessed thrill seekers, but the glitches are guaranteed to annoy.
Often it's the curse of an expansion to lack the ambition possessed by its source, created to generate more money from the rolling wave of positive buzz. New Vegas is a title that, against all odds, escapes the shackles of this description whilst far outshining its father with all the light of its titular city, and then some, in both scope and in the application of its design. Who knew Obsidian were holding such a strong hand?